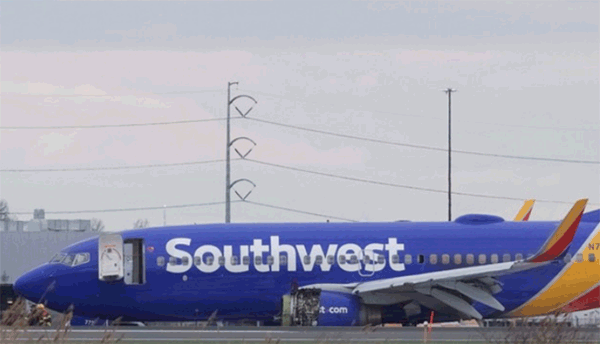 On 17-Apr, 2018 local time, Southwest Airlines Flight 1380 ,Type Boeing 737 was headed to Dallas with 144 passengers and five crew members. For about 20 minutes, everything seemed calm. Then "a loud boom" suddenly jolted the plane, passenger Marty Martinez said. "About five seconds later, all the oxygen masks deployed," he said. "I immediately knew something was wrong. It just didn't register what could have been."Something in the engine broke apart midair and burst through the window, passengers said.
A woman was sucked toward the hole where the window once had been as passengers struggled to pull her back in. In the chaos, it was hard to hear anyone. Flight tracking website Flightradar24 estimated the plane descended from 31,684 feet to 10,000 feet in about five minutes. In recordings to air traffic control, in a calm cool voice, the pilot showed nerves of steel and landed the plane at Philadelphia quickly and safely.
8 injured passenger were rushed to hospital in time after landing. But the woman who sucked toward the hole identified died at a hospital, Seven other people had minor injuries.
In the second day, Southwest Airlines flight from Chicago to Newark, New Jersey, made an unplanned landing Wednesday after a window cracked. The FAA said it will investigate what caused the window to crack. So far, the cause is not known. There was no depressurization in the cabin, and therefore the oxygen masks were not deployed, FAA spokesman Greg Martin said. He said the pilot did not declare an emergency but did ask to divert to a nearby airport. It was the second high-profile flight diversion by a Southwest plane in two consecutive days.
Combined with all transportation, air transportation still is the safest. Air-supply focus on Airfreight, advantage North America from Hongkong airport. Our sales team can provide you economic solution with best service, herein some routes for your reference (base on loading airport Hongkong):
LAX ( RU,CV,OZ,CX,PO,HX,JL,AA)
JFK (CV,OZ,CX,DL)
ORD(RU,CX,CI,BR,KZ,DL)
MIA(CV,CX,5Y,AA,CA)
DFW(CX,SQ,AA)
SFO (SQ)
LAS (KE)
YYZ(OZ,CX,AC)
Etc
For more enquiry, please contact our sales team.