The bill of lading (B/L) format of each shipping company is similar. A full set of a bill of lading is including three sheets ORIGINAL and the copies three sheets, you can take any one sheet of the original bill of lading to pick up the cargo, and the copy is for reference only and cannot be use picked up cargo.
How to issue the bill of lading? The supplier must provide some necessary information to the forwarder, then the forwarder will against the shipping instruction to issue a B/L and send it to the customer for checking, and issue the final B/L when getting confirmation with the customer, below are the normal information for issuing B/L.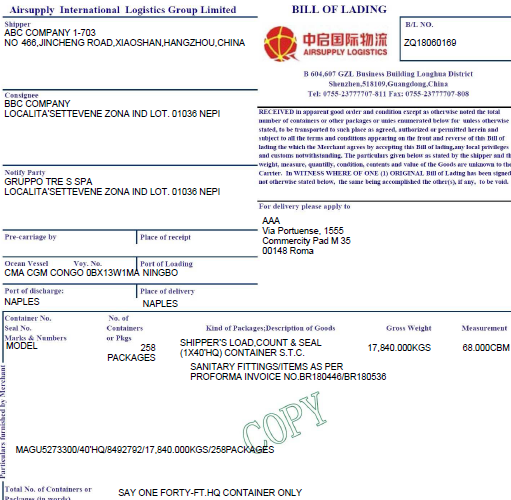 1. Shipper: including shipper's company name, address and contact details.
2. Consignee: including consignee's company name, address and contact details. If the consignee is TO ORDER/ TO ORDER OF THE BANK, notify party must be provided company name, address and contact details.
3. Notify Party: The party who needs to be notified after vessel arrival destination.
4. Vessel name /Voyage no.
5. Place of Receipt.
6. Port of Loading.
7. Port of Discharge. Normally it is the destination or transit port.
8. Place of Delivery. The actual delivery location, it's can be the same as the destination port.
9. Marks and Number.
10. Number and Description of Goods.
11. Gross Weight of goods.
12. Measurement.
13. ON BOARD DATED.
Sign party. Freight Collect or Freight Prepaid.