Airsupply Int'l Logistics Group Ltd (below abbreviation as Airsupply) is one professional freight forwarding company registered and authorized by ministry of commerce of the People's Republic of China, with NVOCC qualification granted by State Ministry of Transportation as well as RA program (Regulated Agent Regime)
Airsupply – organizes by efficient freight management system with high educated team and to providing professional logistics solutions.
Our service:
Beside of strong partnerships with various carriers, We are :
Providing "Block Space Allocations" by multiple carriers, which can help you to dispatch your goods on time.
Our airfreight service inclusive of below:
• Import and Export services
• Door to door / airport to airport services
• Express or deferred transport solutions
• All transport documentation completed
• cargo status update
• Insurance available, if any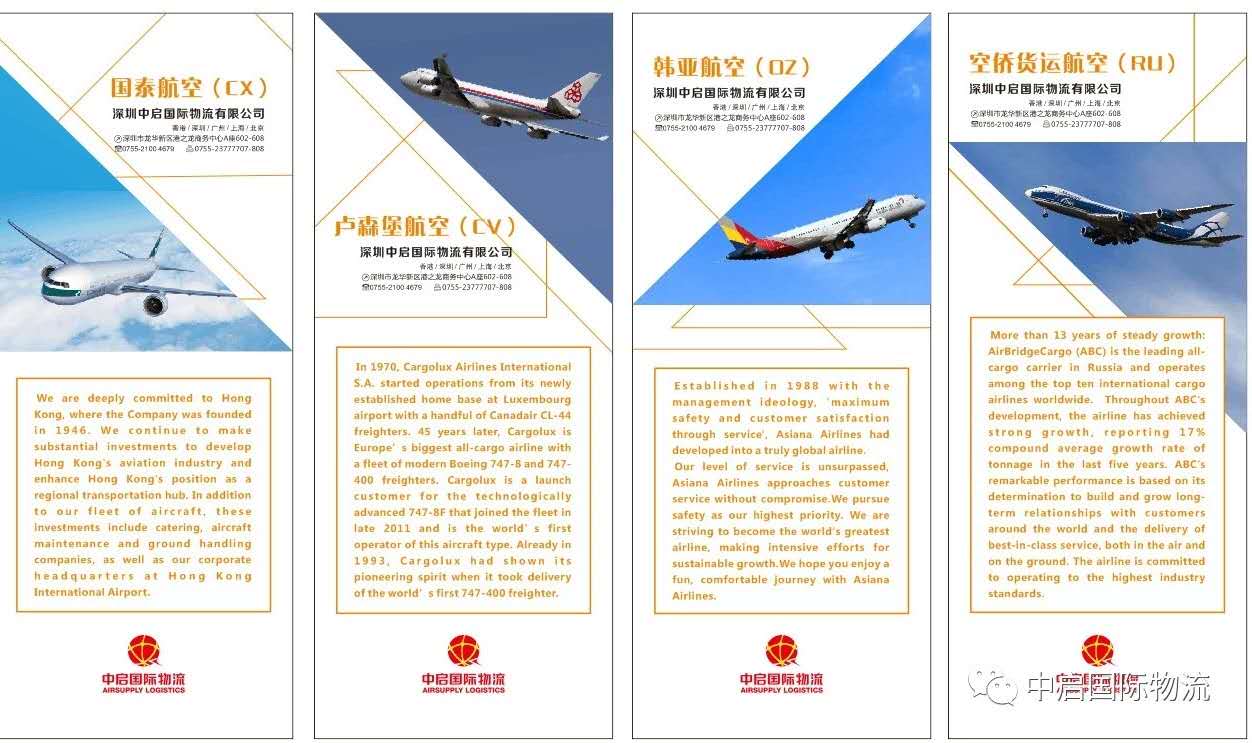 We are co-operation with more than 30 airlines from Shenzhen/Hong Kong, providing Global consolidation service, such as CV, SQ, PO, U3,CXand NH, etc.
Our advantage: not only for general cargo service, co-operation especially for special cargo, such as over size, overweight, DG, power bank, battery, electronic cigarette, scooter, etc.
Airsupply own set-up are in Shenzhen head office, Guangzhou, Hong Kong, Beijing, Shanghai branches. Our close counterparts are in Xiamen, Ningbo, Tianjin, Qingdao, Dalian, Chongqing, Chengdu and other seaport & airport in China. Its overseas partner network ranges from Europe, North America, Oceania, South-east Asia, Middle East, South America and Africa.
Trust us, Airsupply will be your best choice.
Choice Freight Best choose success.
Contact details:
Ivy Luo. C/S manager
Tel: 0755-21018307, Mob:13590218500
Skype: 13590218500
Email:[email protected]
QQ:3094525070