The relationship of vendor(seller), Freight best(Airsupply ), Airline, Shipping line, oversea agency, and vendee(buyer)
in the import and export trading process as below picture.

You can easy to find the each role in the supply chain.
Sample operation process for import and export is as below:
After the seller and buyer negotiated a business, inco-terms normaly are FOB,EXW. the buyer will search a shipping agent at destination for handle the shipment, and this shipping agent nominated we Freight best(Airsupply- our brother company) for the shipping agent in origin port, process will be started accordingly.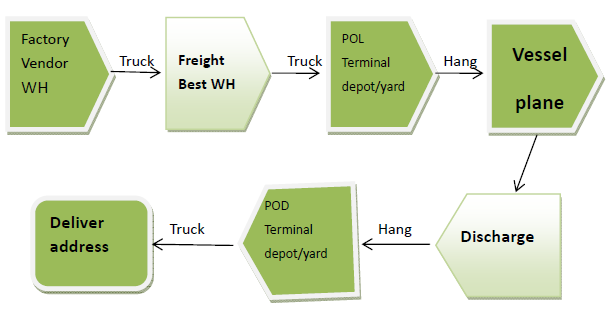 1. Our sales will forward a order details for the operation, the order must including POL/POD/commodity details (q'ty, G.W. measure)/Which Airline(shipping line), packages, cargo ready time, if need trucking service/ Customs service or not? any other instruction.
2. We will place booking with Airline/Shipping line against Customer's instruction.
3. If the seller arrange trucking and Customs by themselves, we will release space to shipper for arrangement. If need our trucking/ Customs service, we will pass the information to our trucker, and Customs broker.
4. When we received the goods into our terminal depot/terminal yard, we will process the documentation, issue MAWB(MBL),HAWB(HBL),MANIFEST accordingly. All the final documentation confirmed, we will send full set of docs MAWB(MBL),HAWB(HBL),MANIFEST, PACKING LIST AND INVOICE to oversea agency for their destination Custom clearance.
5. Put charges in our systems and send debit note to related Customer, and request payment.
Choice Freight Best choose success.
Contact details:
Ivy Luo. C/S manager
Tel: 0755-21018307, Mob:13590218500
Skype: 13590218500
Email:[email protected]
QQ:3094525070